"Leçons de séduction"
Digital photo - Gelatin silver print mounted on Dibond
100 x 71 cm - Limited edition: 3ex - 2003

Exhibition view - "Art Dealer 2003" - Roger Pailhas Gallery - Marseilles

Exhibition view - Solo exhibition - Quadrum Gallery - Lisbon - 2004
Exhibition view - "Amours, délices et... orgues !?" - Ferme du Buisson - National scene - Marne-La-Vallée - 2007
| | | |
| --- | --- | --- |
| | | |
The "leçons de séduction" are a hijacking of the Aubade advertising campaign lessons of seduction.
They propose an alternative to the traditional vision of beauty which requires a perfect body.
They raise questions about norms and standards. In Aubade's campaign these perfect bodies without heads look impersonal and universal, therefore they can correspond to – almost - anyone's tastes, thus generating the greatest variety of fantasies. In a way my version is only an extension of Hervé Lewis' intention (the author of the original campaign).
For my lessons I mirrored the pose and the lighting from the original photographs (already quite suggestive) making only minor adjustments to suggest more.
Unaltered, the original text becomes the title of the photograph. However the text does not appear on the photograph. I did not want to create a parody of the original campaign and criticise it. Thus the photographs can maintain their photograph's status.
I just try to demonstrate that even an imperfect body - such as mine - enhanced with tattoos, piercings, and accessories can be as attractive and suggestive as perfect professional model's forms. In my lessons I want the body to maintain its connection to reality, unlike Aubade's unreal bodies. For this reason, the photographs remain almost not touched up, showing all my blemishes and imperfections.
These photographs, far away from the usual clichés, simply evoke another reality…
The screensaver has been executed with these photos...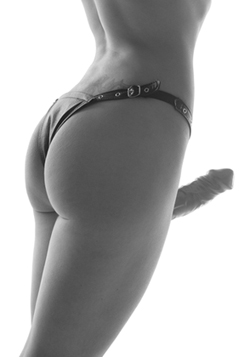 Leçon n°2: "Le prendre par les sentiments."
(" Butter him up. ")


Leçon n°4: "Lui rapeller combien vous êtes fragile."
(" Remind him how fragile you are. ")

Leçon n°10: "Poser le piège et attendre."
(" Bait the trap and wait. ")

Leçon n°29: "Lui présenter votre meilleur profil."
(" Show him your best profile. ")

Leçon n°31: "Lui révéler un secret."
(" Reveal to him a secret. ")

Leçon n°32: "L'inciter à méditer."
(" Encourage him to meditate.")

Leçon n°37: "Arrêter de l'énerver."
(" Stop getting on his nerves. ")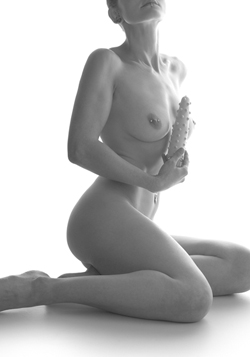 Leçon n°39: "... puis l'allonger sur le divan."
("... then recline him on the sofa.")

Leçon n°43: "Tester ses résistances."
(" Test his resistance. ")

Leçon n°44: "S'amuser d'un rien."
(" Enjoy the simple things. ")

Leçon n°47: "Jouer sur la corde sensible."
(" Pull his chain. ")